The new year is here!! I think for me, the past 2 years just came and past very quickly, and I never sat down to take stock of whatever happened... And so..here are some pictures which carries so much memories for me.. Its so surprising to realise that there are some good friends who I never took any pictures with.. and in no relevant order...

Pictures N Memories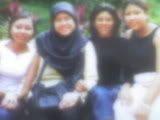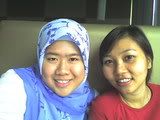 My 4 best pals in secondary school from left, Edleen, me, Sharifah, and Salina.. It was taken after I finished my A levels.. We all went to NUS to visit Salina who was warded for asthma! I really miss all you 3 girls.. Its been so long since we last sat down and just chat huh.. Tiny picture of me and Edleen during secondary 4 talentime.. We sang such a sweet song..And lastly picture of us together when we had lunch somewhere this year..
Since all my good friends will know by know, I am a total clutz and a hazzard.. So What accident did I land Edleen in..hahah I am sure there were plenty but the one that really stands out is the one in Secondary One where I tripped over a tiny step in the parade square, and in the process pushing Edleen. Salina was in front of us..but since she could only safe one of us, she saved me..and Edleen fell down, blacked out for a while and chipped her front tooth..hehe but all is well..she had it pasted already.. Well that sparked the start of a brilliant friendship.
Thank you Edleen dear for being there all the time, and just a phone call away..and like you always say.. don't say I don't know..because you know..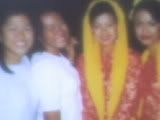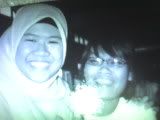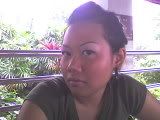 Lets describe the pics first:
Picture 1: Arfah, Nornie, and me during raya this yr. Picture 2: Me, Nornie, Arti and Hannah during JJ nite in Yr1. Picture 3: Me and Arfah (I held Arfah hostage. She refused to had her picture taken). Picture 4: Nornie (I found this picture of her. ALONE! on my hp. I think it was taken last semester when we were studying and she got bored)

Well..loved every single one of them.. Arti was with me the first ever time I drove alone mind you..Hehhe got into a minor blotch up at first and then got totally lost..Her mouth was utterly "masin" (sure to come true). She said as we were on our way to hannah place "we sure to pass by school" and we did..we went to JJC which was in Jurong, when we were actually from School in Clementi going to Bukit Panjang..hahha Totally the wrong way! But it was fun..and she was really patient with me! And for the many occasions where she allowed me to just be chaotic and stressed and her just telling me to relax!
And Nornie..humm..I don't think I ever got her into trouble though..But I really love her company all the time..I miss having someone to bitch about in social work class, or going to lunch after that and stoning and 'spotting' exam questions with utter laughter..Must go out soon yeah! And remember all the shopping....
Must thank Hannah for all the shopping tips..and always telling me to relax!!
And now, Arfah's turn..This girl got it real bad in terms of my 'clutzness'..hahah the many times I grabbed on her when I almost fell on the escalator..But the emmy prize has to go to this particular time when I pushed her down the stairs of the lecture theater in science. Why? it was break time, I missed one step..and then in slow mo..I could see all the many steps going pass me one by one..but no..I could not step on any one of them..then I saw the door..so I held my hand outstretched..and low and behold..it was Arfah coming to the door..she broke my fall..hahahha Just as she was about to get angry (I am sure it hurt huh babe!) I had this pathetic face of mine going "I tripped! So Sorry!" SO yeah..she didn't scold me..hahha So now..she has gotten used to it already...Well thanks ya for talking to me all the time, listening to my whining..and then everytime I need to do something without clarity, become my partner in crime..Remember the time when we were learning to drive and I told you and Andee the wrong bus to take and we ended up close to an army camp..hahhahaha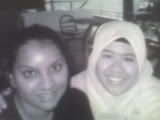 Picture of me and ND. Well girl..don't get angry with me. I do have nicer picture of us but I think this picture really capture whatever we have to always go true together..Hard times in school!! :)
So many stories of us being lost together..Remember how blur we were when we wanted to register to learn driving? And the many stories we have of Econs during JJ..and also the so many late nite phone calls where you helped to keep me sane?? I really appreciate our friendship babe..Thanks for everything..



Picture of me and Mushi..hahah don't the both of us look really coy? (See Mushi I didn't put any incriminating photos of you..and yesh ok I do have them!) With Mushi, she always took precaution not to be pulled into accidents cos of dear old me..Just wanted to thank you for the many wonderful times we have in school, especially while studying till we were mad in NUS. Its so hard to remain sane if not..And do help me keep my sanity next semester yeah.. Lets work to our plan of having hair cuts together and going for spas together.. Like I say, its the frienships which have been tested but remains that endures..SO let's just remember the good times..



Picture of me with Yani..(she was actually trying to take a picture of Faiza I think) Got close to her in uni..but especially this semester cos we were studying together and took a subject together..Really love the 'post-law' lesson drive where we would talk about private stuff!! Gerek u!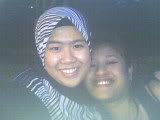 Picture of me and Linda..Even though we are worlds apart..and I do mean WORLDS! I can understand her and her, understand me..You will never be able to guess how much your point of view of things really enrich me..That is why everytime I am troubled, I give you a ring..and the many ingenious off-hand jokes!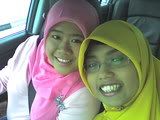 Picture of me and Arafah..What can I say? Thank you for the wonderful frienship over the years.. "temaning" me in all my errands..I was just having flashbacks of the times when we were relief teaching and with lotsa KKChing to spare where we will meet up after work and eat and shop..wah best..Very carefree ways.. Though times have changed..and you have become a mother..thank you for still making time for me, and always lending me a listening year to all my little whinnyness though you got your own stuff to deal with.. I hope and pray that this new year will bring you lots of happy and new things..and seriously girl, motherhood has changed you..and through you, I can see that motherhood makes a person less selfish..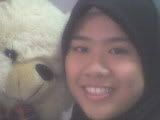 And well, lets just end with a picture of me..(hahah how narcassistic!) There are so many other people who have made such a great impact in my life and provided me with so much love and support.. Jannah for one.. who I don't have a picture of. oh yeah..ok of hand just remembered how I pasted her to the side of the bus cos' I flew when the bus jerked to a stop and she cushioned my fall!hahha.. and so many of my other friends.. It has seriously been such a long time since I took stock of whatever I have. I hope this year will be the start of new things to come..God willing.. To a more positive outlook and to just take whatever comes with an open mind and heart!